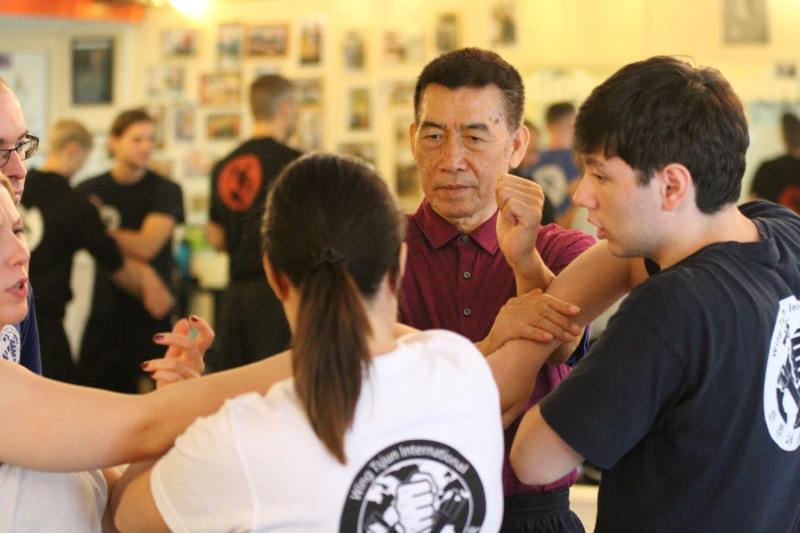 At a time when openness and interest in other unfamiliar things is a rarity, it was heartening to see how many students and teachers attended the Wing Chun seminars with Sifu Kwok Wai Zaam last weekend in Langenfeld, Germany.
Kwok Sifu's kind and respectful nature made it a pleasure for the participants to attend the seminar weekend and the two days passed quickly.
You may ask, "What is Kwok Sifu's connection to what we train in WTI?"
The connection began when Kwok Fu, the father of Kwok Wai Zaam, watched a group of six teenagers at a young age disappear into a factory building. Not long after they closed the door he heard wild noises. This sparked the curiosity of young Kwok Fu. The youngest of this group was known to him as Lun Kai, and at the next available opportunity he asked Sun Kai what it was that he and his friends were doing behind closed doors.
Lun Kai told him that a kung fu master named Sifu Yip Man would train them to learn martial arts, which excited Kwok Fu so much, that he begged Lun Kai to ask master Yip to teach him too at the clothing factory building.
So Lun Kai went ahead and asked Master Yip in the name of his friend, but the latter refused, as he was originally hired as a tutor for the owner of the factory to teach his son. When the son came to class with five friends, Master Yip decided to teach all six boys. Since the young Kwok was not part of this group, he was dismissed.
Kwok Fu was very sad when his friend Lun Kai told him about the master's refusal. Lun Kai advised him not to be discouraged and to always be kind to Master Yip Man, who was called "Man Suk" (Uncle Man) by everybody. Maybe this would eventually change the master´s mind.
So Kwok Fu made sure that he kept engaging Master Yip into conversations when ever he had the chance and at some point, Sifu Yip told Lun Kai let Kwok Fu know that he would tentatively allow his friend to attend class to find out if Kwok Fu was serious about his desire to Learn Kung Fu, or lose interest quickly.
Within a short time Kwok Fu became the most talented and hard-working of the now seven young people and in later years he would become known as the best of Sifu Yip Man's students in Fatsaan at the time.
Sifu Kwok Wai Zaam started taking lessons from his Sifu and father Kwok Fu at the tender age of nine, and last weekend, Wing Tsjun International members had the opportunity to try a Wing Chun that was taught before Yip Man's later period in Hong Kong, which was a fascinating time travel for the participants and brought many different ideas to light.
The course, and especially the collaboration with Kwok Sifu, was so well received, that an official cooperation was planned for the coming year, including a trip to Fatsaan, the hometown of Wing Tsjun.
We will inform you about all details in a timely manner.
All pictures of the event can be found here and in the next few days we will publish a video that shows the seminar weekend very well.